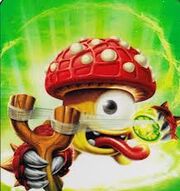 "He Shoots,He Spores"
Shroomboom is a living mushroom that sometimes acts like a mushroom and jump out at Master Eon(Naughty Scoundrel).Lot's of people tease poor Shroomboom by saying he's a demon,poor Shroomboom.
These are Shroomboom's moves:
1.Mushroom Slingshot
2.Fungi Ring
3.Cap Protection
4.Paralysis Lick
5.Self-Shot
SHROOMBOOM'S FACTFILE
Name: Shroomboom
Gender: Male
Element: Life
Flower: Divines
Attack:7/10
Defence:10/10
Speed:1/10
Ad blocker interference detected!
Wikia is a free-to-use site that makes money from advertising. We have a modified experience for viewers using ad blockers

Wikia is not accessible if you've made further modifications. Remove the custom ad blocker rule(s) and the page will load as expected.