"Spell Done,Very Impressive"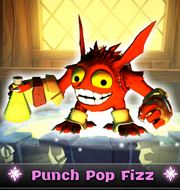 Punch Pop Fizz is a different version of the magic type skylander Pop Fizz.He doesn't know as much about potions as Pop Fizz but has lots of information.He is able to make a potion that turns himselph beaastly(picture at the bottom) just like Pop Fizz does.
These are Punch Pop Fizz' moves:
1.Potion Eyes
2.Beast Spell
3.Spell Punk Smash
4.Beast Knuckles
5.Potion Pop
PUNCH POP FIZZ'
Name:Punch Pop Fizz
Gender:Male
Element:Magic
Flowers:Arcane Lights
Attack:6/10
Defence:1/10
Speed:9/10
Ad blocker interference detected!
Wikia is a free-to-use site that makes money from advertising. We have a modified experience for viewers using ad blockers

Wikia is not accessible if you've made further modifications. Remove the custom ad blocker rule(s) and the page will load as expected.