"Wind Your Own Business"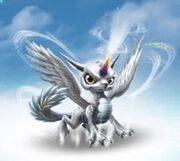 Polar Whirlwind is a icy copy of the skylander Whirlwind.She can fly even higher than whirlwind because she can handle colder temperatures.He has big ears to hear faint noises.She is a dragon with unicorn features.
These are Polar Whirlwind's moves:
1.Cloudbusting
2.Horn Dash
3.Rainbow of Healing
4.Doom Horn
5.Ice Chucking
POLAR WHIRLWIND'S FACTFILE
Name:Polar Whirlwind
Gender:Female
Element:Air
Flower:Feathairs
Attack:7/10
Defence:4/10
Speed:10/10
Ad blocker interference detected!
Wikia is a free-to-use site that makes money from advertising. We have a modified experience for viewers using ad blockers

Wikia is not accessible if you've made further modifications. Remove the custom ad blocker rule(s) and the page will load as expected.