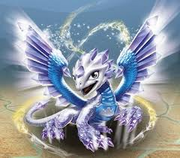 "Blinded The Light"
Flashwing is a dragon covered in crystals.There is a one Flashwing that lives up in the harshest plain in skylands,Gemrock Cave. Flashwings have sensible attitudes unlike Shroombooms who are always up to no good.
These are Flashwings moves:
1.Crystal Shards
2.Shimmering Spin
3.Diamond Lighthouse
4.Tail Laser
5.Gem Charge
FLASHWING'S FACTFILE
Name: Flashwing
Gender: Female
Element: Earth
Flower: Moss Stash
Attack: 7/10
Defence: 5/10
Speed: 7/10
Ad blocker interference detected!
Wikia is a free-to-use site that makes money from advertising. We have a modified experience for viewers using ad blockers

Wikia is not accessible if you've made further modifications. Remove the custom ad blocker rule(s) and the page will load as expected.