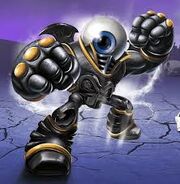 "I've Got My Eye On You"
Eye-Brawl is the giant of Undead.He is a cyclops.His eye can detatch from its head and fly while shooting laser beams.He has the third most hardest fist punches.He is the size of three cars put ontop of each other.Eye-Brawl has big shoes which you can hear from a mile away.
These are Eye-Brawls moves:
1.HayMaker
2.Eye Fly
3.HayMaker 2
4.Triple Eye Team
5.Eye Minion
EYE-BRAWL'S FACTFILE
Name: Eye-Brawl
Gender: Male
Element: Undead(Giant)
Flowers:Death Caps
Attack:99/100
Defence:99/100
Speed:4/100
Ad blocker interference detected!
Wikia is a free-to-use site that makes money from advertising. We have a modified experience for viewers using ad blockers

Wikia is not accessible if you've made further modifications. Remove the custom ad blocker rule(s) and the page will load as expected.