"Rock N Roll"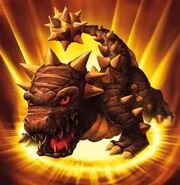 Bash is a loyal servant of mine that always attacks when enemies are around.He has a golden helmet tomprotect his head but he doesn't always put it on.He has the loudest roar out of all the skylanders.He has spikes all over his body.people have called him a golem but I don't really think he is.
These are Bash' moves:
1.Tail Swipe
2.Stone Smash
3.Golem Hand
4.Roll
5.Giant Roll
BASH'S FACTFILE
Name:Bash
Gender:Male
Element: Earth
Flower:Sandrose
Attack: 7/10
Defence: 10/10
Speed: 6/10
Ad blocker interference detected!
Wikia is a free-to-use site that makes money from advertising. We have a modified experience for viewers using ad blockers

Wikia is not accessible if you've made further modifications. Remove the custom ad blocker rule(s) and the page will load as expected.